Jackie from Jackie Jean Photography and I are super duper busy getting everything ready for our upcoming LIVE editing workshop on May 19, 4pm-7pm, PST! Neither one of us has ever gone into such detail sharing our post processing secrets, and we are beyond excited that seats are filling up and the day is drawing near! Eek! Have you already gotten your seat? Can't wait to meet you!
Wanna see what we'll be teaching? Check THIS out!
If you want more information about the workshop and how to sign up, CLICK RIGHT HERE!
But that's not all! (I'm feeling like a game show host!) Let me tell you what else we have in store for you!
We're doing a GIVEAWAY!!! And who doesn't love a giveaway??
The grand prize winner wins:
1) Jackie Jean Photography's amazing Imagine series. It's a set of 50 actions for CS2 and up. AND you win…
2) a sunflare overlay with a cute little rainbow for some added awesome to your backlit images AND
3) a butterfly overlay to add a little whimsy into your day!
And if you come in second or third, you can STILL win the sunflare overlay AND the butterfly overlay. Yea!
Here are the two overlays in action: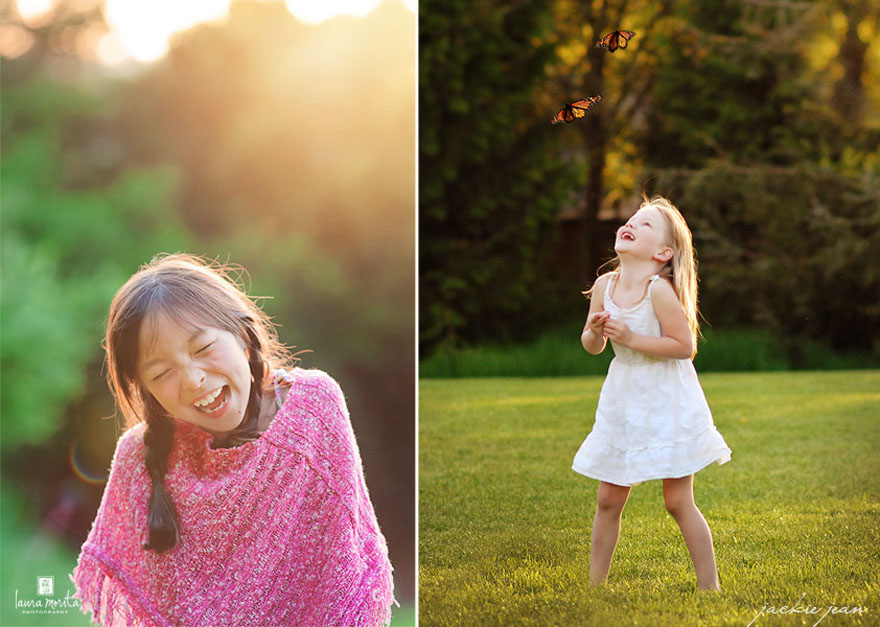 You want it? Well, read the details below and FOLLOW THE INSTRUCTIONS. Lol! We have already seen lots of people entering to win who clearly have not read the fine print. You gots to SHARE, people. SHARE!
The contest has already started and ends on May 15. Time's a tickin' people!
HOW TO ENTER:
1. Go to Jackie Jean Photography's Facebook fanpage and click on "LIKE." (They really  need a "LOVE" button, if you ask me.)
2. Go to Laura Morita Photography's Facebook fanpage and click on "LIKE."
3. SHARE one of our SHINE ads we have on either of our Facebook pages. We made it easy and pinned an ad at the top of our Facebook pages, so it's niiiice and easy! All you gotta do is click on "SHARE" and post it to your wall.
4. Come back over here, look for that doohickey below this information that says LOG IN TO ENTER and do what it tells you to do.
That's it! Winners will be contacted by email within 48 hours after the giveaway ends, and if you didn't follow the instructions on how to enter, then NO SOUP FOR YOU! You won't win. You gotta do all the steps listed above!
Oh, and just so you know, this promotion is in no way sponsored, endorsed or administered by, or associated with, Facebook. Facebook is released from any liability.