Sylvia Borgo.  How do I love her?  Let me count the ways?  She is sweet.  She is considerate.  She is creative.  She is a complete joy to shoot with.  She knows how to wonderfully engage her clients and is truly interested in learning about them so that when she shoots them, she SEES them.  Really sees them.  I love Sylvia Borgo.  And you will too.
Check out her WEBSITE and her FACEBOOK PAGE.  Sylvia hails from San Diego, CA.  She's the bomb.  Blown up.  If you live there and you want pics, then you want her.  Trust me.  You won't be disappointed.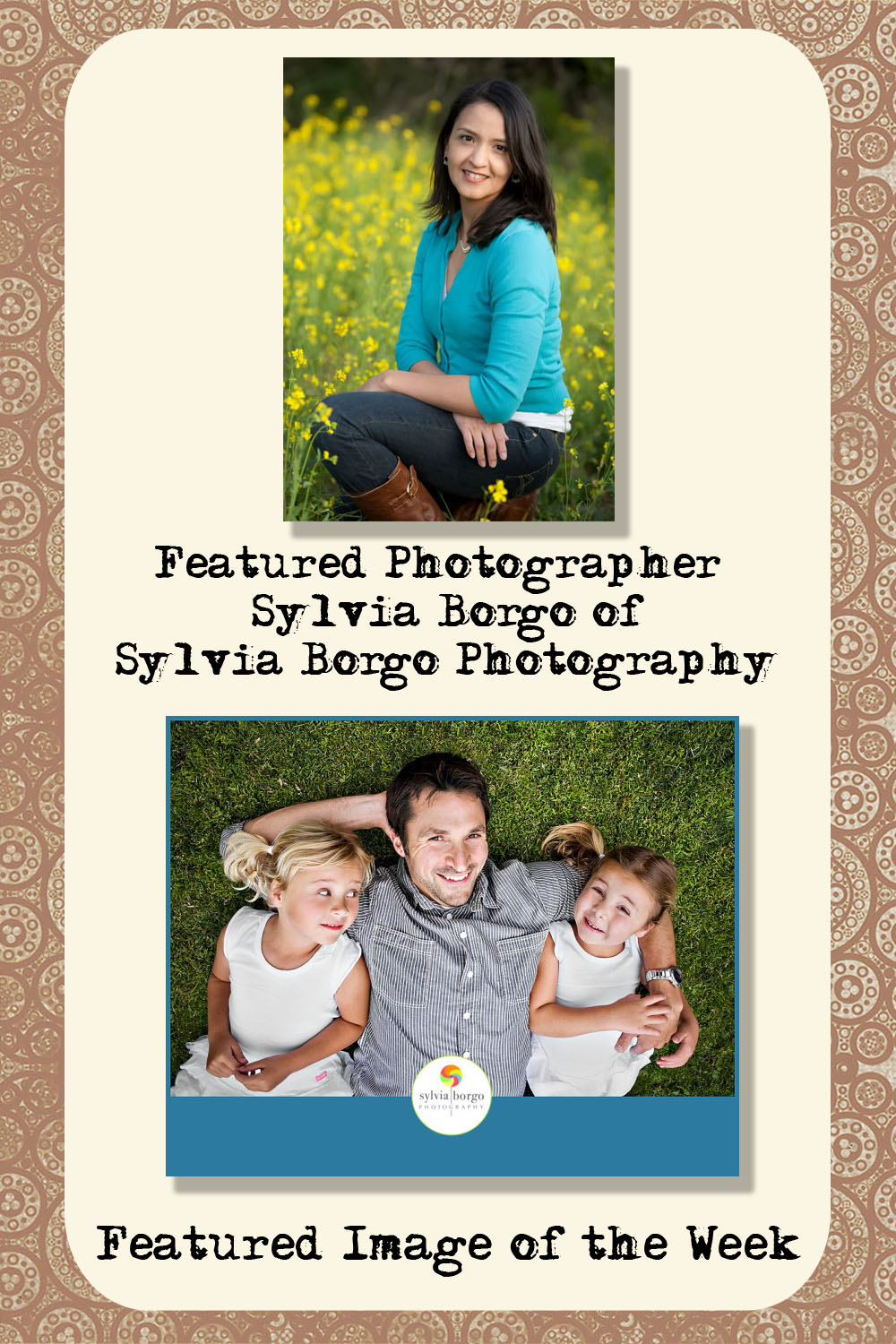 Why do you love this image?
I love the moment, I love how casual it is – just a dad and his two daughters enjoying a warm spring day. You could pick this picture apart and say that the oldest girl isn't looking at the camera, that her hands are awkwardly in motion. But I see an interaction, I see their relationship, I see an imperfect image which is perfect for this family
What were your settings with this image?
I used my 35mm lens. ISO 400, SS 1/200, f3.5
What do you love about Photography?
I love that photography captures a very specific moment in time. I love how, if done well and with sincerity, you can really capture the essence of the moment and a person. I love it when parents say, "You captured him so perfectly," or "You really 'got us' as a family."

What type of Photography do you specialize in and why?
I love photographing families, children, babies and most recently, I've photographed several teens and High School Seniors.

What are your favorite hobbies and pastimes?
I love to read. I love to listen to music. I love doing yoga (it is so relaxing and energizing at the same time). I also love to travel, but haven't done too much of it these last few years. I've been all across the US and Europe, made it to Central America and had the extreme pleasure of traveling in Southern Africa for a whole month! Next stops, S. E. Asia and Australia.

Who or what inspires you?
I'm inspired by dedication. Whether it be a teacher in the classroom, a mother, a dancer, another photographer, or my sons playing a sport – I'm inspired by the commitment it takes to focus on a goal, a skill, a craft.

Who are some of your favorite singers/bands?
Oh, man – don't even get me started!!! I love, love, love music and have lots of faves. I acquired my early musical tastes in the 80s. LOL! So if there is a question about a band or a song or a musical event that took place in the 80s, I bet you that I know ALL about it. LOL! I'm trying to stay hip with music and hopefully by liking Radiohead, U2, The Killers, Modest Mouse, Yeah, Yeah, Yeahs, Foo Fighters, The Kooks, and Vampire Weekend I can still be classified as musically cool.
What is your favorite movie of all time?
I took a class in college that introduced us to the revolutionary works in movie-making history. But I'm going to have to go with Ferris Beuller's Day Off. It definitely wouldn't be classified as "revolutionary," but I love that movie!
What would your ideal day be like?
I would wake up late – we are talking, like, 8:30am. LOL! Then I would have a giant breakfast and then head off to the zoo with my family. Then I we would have a delish lunch and I would take a loooooooonnnnng nap. In the afternoon, I'd try to carve out some time for just myself and maybe read a magazine. We would go out to dinner (nothing fancy) and then come home to read to my boys, cuddle with them, and tuck them in to bed. 10) If you weren't a photographer, what other profession would you like to pursue? I would love to work for a design firm. I think I'm just fascinated by imagery and the power of design and the print/visual media. Or, no, no . . . I would love to be a restaurant critic or professional food taster. WOW! To eat all that delish food. YES! That would be my other dream job!
Isn't she wonderful?
Next week, I have the honor of featuring Fabiana Loverde de Huffaker of Fabiana Beatriz Photography.  I've also met this wonderful person, photographer, mother, and friend in person, and let me just say, she is inspiring.  On all accounts.  Such a gem.