Emily Southerland of Emily Southerland Photography in St. Louis, Missouri is one of those women that you just can't help but adore. She's funny, creative, very kind, and just a real joy to get to know. Her photography is a breath of fresh air. I really love her fun style. Right up my alley.
Check out her WEBSITE, BLOG, and FACEBOOK page.
And see what I mean about being a breath of fresh air?  I totally love these pictures.  Both her cute self portraits and the chicken one.  Silly lady.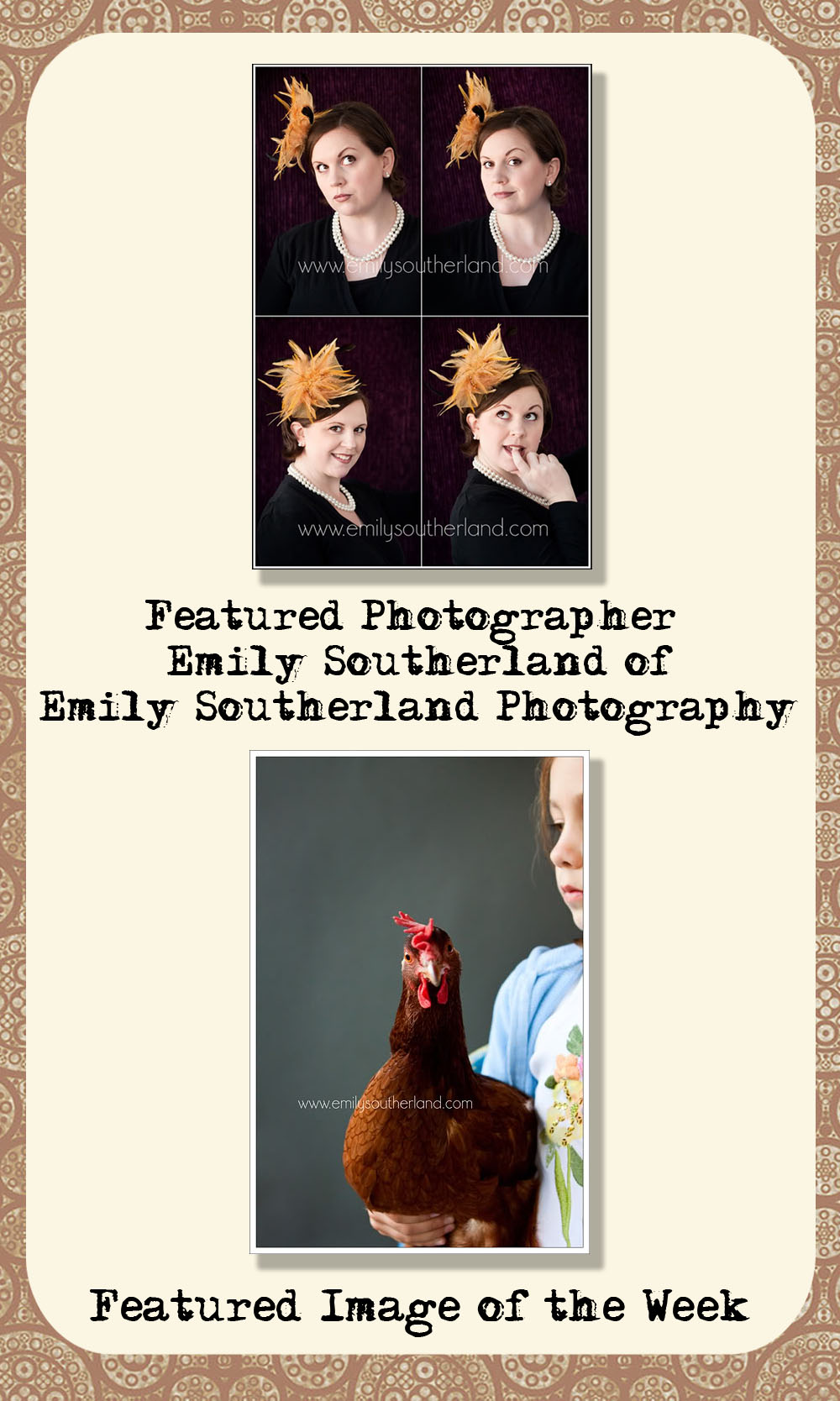 Why do you love this image?
this one breaks some rules… The girl is all but cut out of the shot, the main subject is a chicken… But every time I look at this shot, I LOVE it. Love the randomness. Love that it looks moody, even while being silly. And LOVE the eye contact from the chicken (who's name is Tulip, by the way.)
What were your settings with this image?
ISO 640
SS 1/160
aperture 3.2
lens: 24-70L
natural light
What do you love about Photography?
I love catching perfect moments in crisp, beautiful color/black and white. I love seeing personality in my subject's eyes. I love being able to preserve the RIGHT NOW for myself– a big sappy sentamentalist!– and to be able to do that for others as well.
What type of Photography do you specialize in and why?
I specialize in portraits of babies, kiddos, and teens… With family moments thrown in. I do love photographing couples in love, but most of my work leans towards the younger set. I particularly adore babies and high school seniors. I find myself drawn to this instead of weddings/landscape/macro because I love the spontaneity you get when you can arrange the best times and places for photographs. I love that I can get most any subject to let loose and really become themselves in front of the camera. And I love the intimacy of working with people, but in small numbers.
What are your favorite hobbies and pastimes?
I LOVE baking– particularly cupcakes. And I have discovered a passion for sewing that has taken over my imagination completely. I'm an artist at heart, and love love love creating something out of nothing. Fabric just happens to be my medium of choice these days. As for pastimes, I love going to movies, eating amazing food, exploring markets fairs and festivals, road-tripping, and playing board games with family and friends.
Who or what inspires you?
I am inspired by wildly creative people, most of whom I find online these days. Etsy artists, other photographers, designers… I am in awe of the original ideas out there that still exist. How do they come UP with that stuff???
I am also inspired by vintage, boho, gypsy, Anthropologie, my nostalgia for my own past, and my mother.
Stay tuned next week when I feature the insanely talented Niki Strbian from Finland. Check out her website.