Oh goody!  This week I am featuring a photographer whom I hold near and dear to my heart!  Clarice Hendel of Studio Cee Photography in Orange County, CA.  When my sister was pregnant, and I couldn't get there to do her maternity pictures, Clarice stepped in, and WOW, did she knock it out of the ballpark.  So, this week, not only do I get to feature someone who I adore both as a person and as a photographer, but I also get to feature an image that I super duper adore, cuz it's my SISTER.
Here's her information:
Website: www.studiocee.com
Blog: www.studioceeblog.com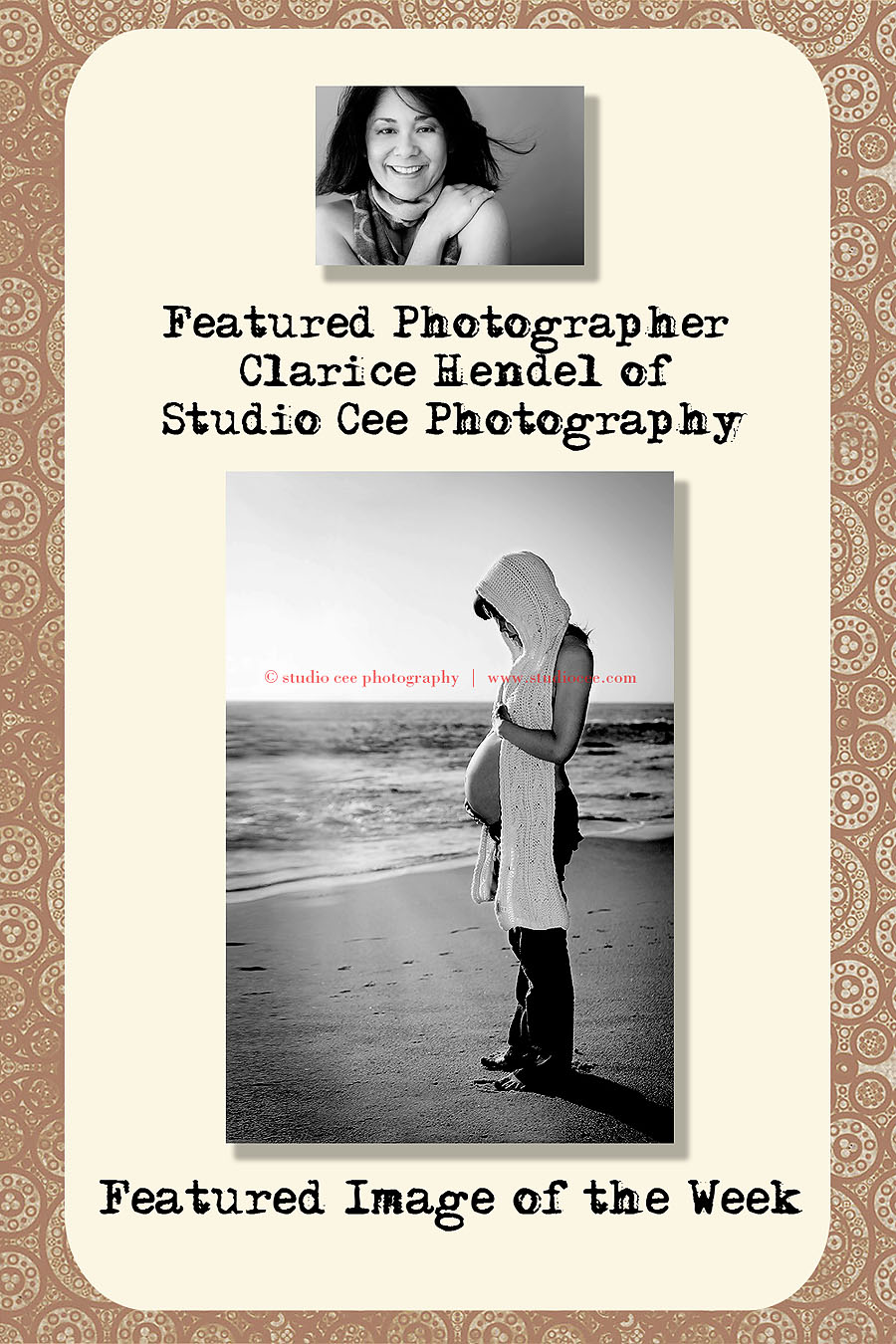 Why do you love this image?
I think this image stands out for me because my beautiful model "P" stands out so well with the beautiful pacific ocean as the backdrop. I also  really love how the light bounces on her belly.
What were your settings with this image?
ISO 100, f/2.8, 1/5000ss, 28-75mm lens / 28mm focal
What do you love about Photography?
I love the creative freedom that I have when picking up a camera. It really provides endless amounts of opportunity for me to explore new creative ideas. Not only can I photograph newborns but I can also photograph all ages, groups, landscape and macros…it's endless!
What type of Photography do you specialize in and why?
I specialize in newborns. When I first ventured into the world of photography it was soley due to an experience that I had with a local newborn photographer that I had hired to photograph my darling son at 8 days old. I was so fascinated by what she was doing. When I saw the final images I was even more captivated and I knew it was something that I needed to explore in the future.
What are your favorite hobbies and pastimes?
I love traveling. My husband and I traveled a lot before we had our children and a trip to Kauai was always on our agenda each year and still is as parents something we try to do every year. I also recently took up knitting and I enjoy that a lot.
Who or what inspires you?

Oh gosh where do I begin? There are so many photographers that inspire me! But I am also inspired by the creativity I see in magazines, just browsing around etsy but I think nature inspires me to see beauty everywhere.
What would your ideal day be like?
It would be 1/3 day of accomplishments, 1/3 day with family, 1/3 day for myself.
If you weren't a photographer, what other profession would you like to pursue?
It would definitely be something in the creative field. I am a graphic designer and worked freelance for many years and loved it. I have studied interior design and I love that too. I am also interested in designing a kids clothing line someday. I use to design and sew all my clothing when I was younger.
So, there you have it!  My sweet Clarice!
Stay tuned next week when I feature Audrey Frantz of Kentiga Photography!