So, last week, I said I was featuring Cari Berry Photography this week, but I gots a little bit cornfused… THIS week belongs to Kari Wright!  LOVE her work!  I am so happy to share with you Modern Heartworks by Kari Wright from Smithton, MO !  Check out this lovely image! You can see more of her gorgeous work on her WEBSITE, BLOG, and on FACEBOOK.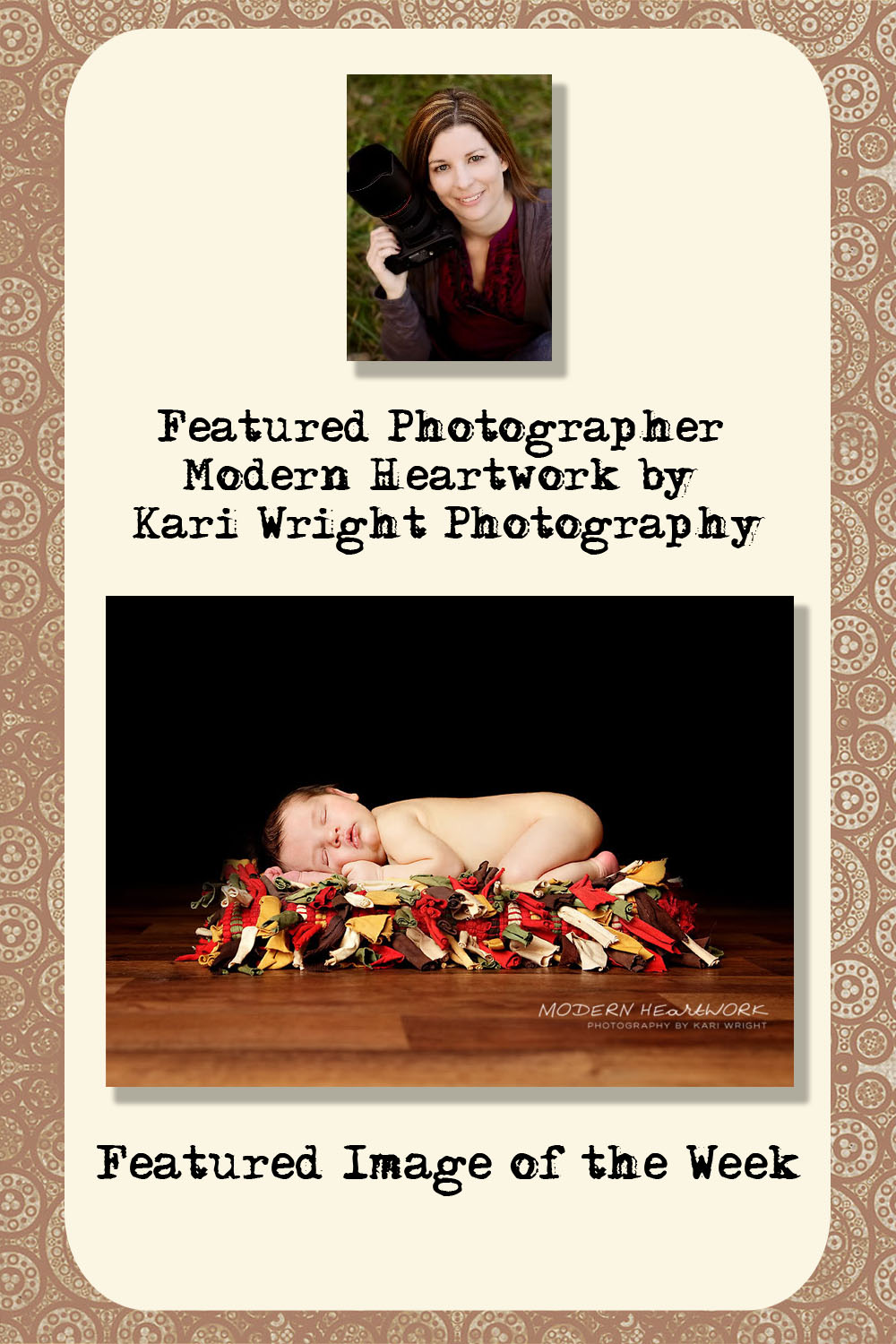 Why do you love this image?
I love everything about shooting newborns. Well, maybe EVERYTHING is an exaggeration – I don't like getting peed on.

What were your settings with this image?
Aperture 4.0, Shutter Speed 1/125, ISO 100
What do you love about Photography?
It would be easier to answer what I DON'T love about photography (editing,hee hee). I love making people look their best by using great light. I love getting boxes of prints from my lab and seeing my work in print – it's like Christmas every time the UPS guy comes.
What type of Photography do you specialize in and why?
Children's. I love kids! I have six of my own and LOVE to make kids smile.

What are your favorite hobbies and pastimes?
I love to read. I knit, sew, crochet and do about anything crafty. I love to roller skate and still play the Limbo every time I take my kids skating.

Who or what inspires you?
My kids originally inspired my love for photography. I get inspired everyday by my photographer friends, we push each other to be our best.

Who are some of your favorite singers/bands?
I am very fickle when it comes to music, my tastes are always changing. Right now on my MP3 the songs range from Lady Gaga, Lynyrd Skynyrd and Rascal Flatts to the Spice Girls (don't judge!).

What is your favorite movie of all time?
I don't really have a favorite but I love romantic comedies.

What would your ideal day be like?
Warm, sunny, the beach, a nanny…
If you weren't a photographer, what other profession would you like to pursue?
I always thought that I would like to be a Radiologist but I think I would be bored with that now.
Stay tuned next week when I promise I will feature one of the sweetest photographers I have ever had the pleasure to meet!  Cari Enticknap of Cari Berry Photography!