It's that time again! Time to share another wonderful photographer! I really admire Gail Montgomery's work. It's so fresh and clean. Gail is from Baltimore, Maryland. You can check out her website, her blog, and her Facebook page.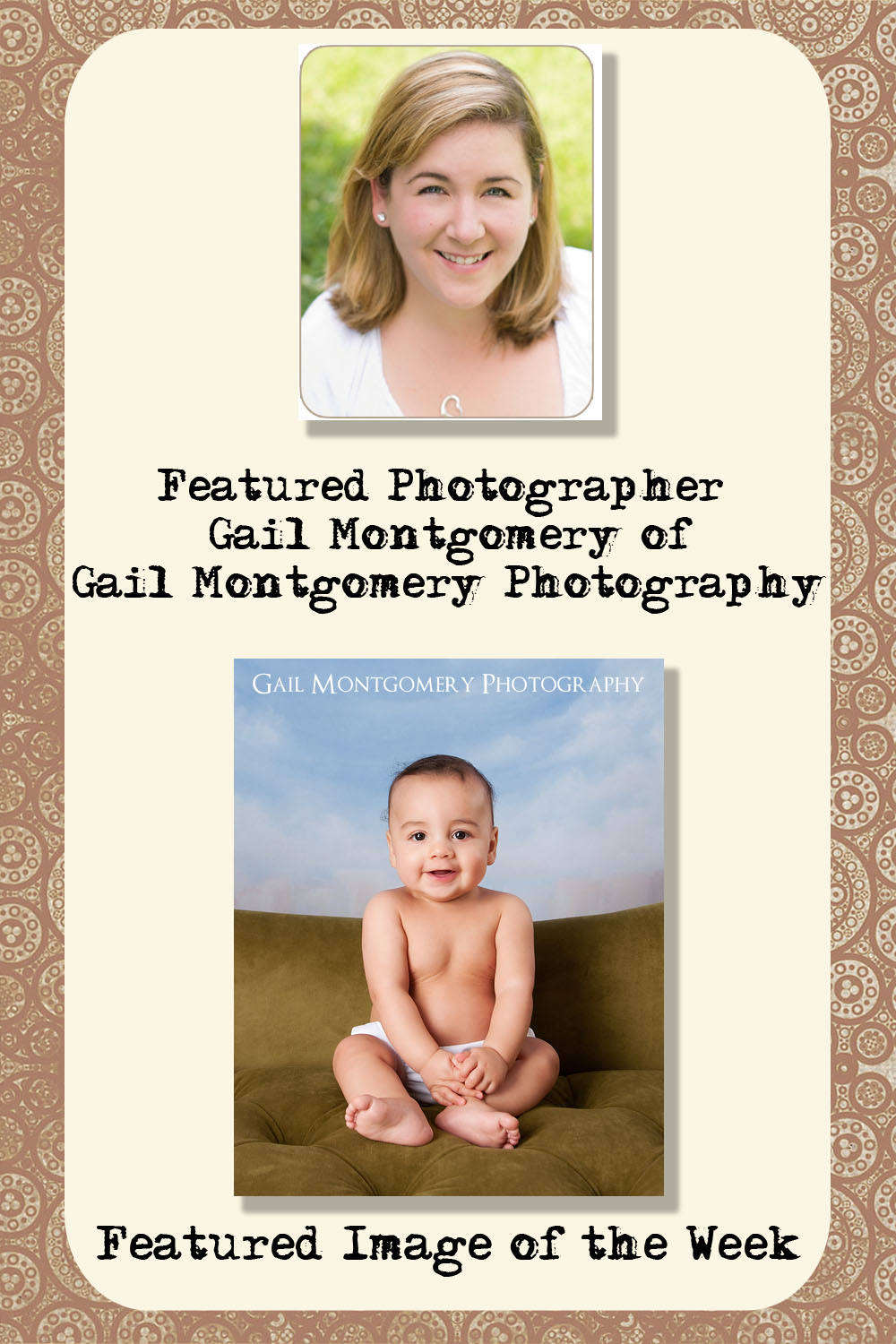 Why do you love this image?
A majority of my photography sessions are based on play, not the clock. Babies don't work the camera on demand and you have to engage them. Baby H came to see me after his parents had a bad experience at a chain photography studio. Our session was relaxed and the flow went largely according to his mood – taking breaks when necessary and moving onto different activities as needed. We had a tremendous amount of fun and at the end of our session, his parents were so appreciative of the experience we had together and I know the real proof was in our resulting images. Custom photography isn't just about an image, it's an experience – it's about capturing a little bit of personality and emotion in all that light and color.
What were your settings with this image?
ISO 200 F 6.3 SS 1/200 Studio Lighting
What do you love about Photography?
The emotion, the details, the truth, the way it helps you remember. Life goes by so quickly – especially with children! They grow and change so much from helpless newborn to strong willed toddler. I love how you can watch a baby grow through a series of images.

What type of Photography do you specialize in and why?
I tend to work with the 1 and under crowd. I love capturing the details of a tiny newborn, but my absolute favorite age to photograph is around 6-7 months. The personality really starts to emerge, you get these gorgeous smiles with big eyes and baby is able to maintain a variety of poses without running away. Well, sometimes they crawl away…
What are your favorite hobbies and pastimes?
Playing with my son, photography & travel
Who or what inspires you?
My 3 year old son Wesley. Becoming a parent is hands down the best thing that has ever happened to me. I adore this little man so much and I would love to find a way to stop time! My attempts to document his every experience has played a major role in my journey as a photographer. I love watching him grow, but I want to remember every minute. Unfortunately, he has been growing really fast, time has been flying by and my memory isn't as good as it used to be. Thankfully, my camera doesn't forget!
Who are some of your favorite singers/bands?
Oh my goodness – can I just say I love it all? The Beatles, Bare Naked Ladies, Sarah McLachlan, Billy Joel, Norah Jones – all play on my Ipod regularly. I love oldies, classics, techno, pop and can be perfectly content listening to mainstream top 40 on the radio… and I love to sing along.
What is your favorite movie of all time?
The Princess Bride or maybe Forrest Gump – or just about any Disney movie – I could (and have) watched them over and over.
What would your ideal day be like?
Waking up in Walt Disney World – in the castle suite (a girl can dream, right?), starting the day with some room service Mickey waffles and then having the whole place just for my family and friends (and myself of course). A beautiful 75 degree day with blue skies and incredible puffy white clouds. It would be a picture perfect day having a blast in the Magic Kingdom together with lots of photo ops. Variations on that perfect day include a cruise, Hawaii, Bermuda, Paris, London – or a fall day at the park.
If you weren't a photographer, what other profession would you like to pursue?
My first career is nursing – specifically Labor and Delivery. I guess you could say I'm drawn to babies. I love helping to bring them into this world and watch a couple grow into a family. As you work with the parents, they let you into some of their most precious moments and you become part of their family for a little while. It is definitely the happiest place in the hospital! Other than nursing, I'd love to swap places with Samantha Brown from the Travel channel and tour some of the best hotels in the world. I think I'd rather enjoy getting paid to be a tourist.
I love Gail!  And next week you get to meet Cari Enticknap of Cari Berry Photography.  I have had the pleasure of shooting with Cari, and she is a complete and utter joy.  I have MAD love for that woman.  Mad love.  Stay tuned!