Gosh, I love books. I will admit that it has been way too long since I have read a book for myself.  Now, it's all about reading books for the kids.  But I love books.  We have books scattered all around the house.  I love grabbing a pile of books, putting it on the floor, and watching my son start devouring the images in them.  I love that books can entertain, spark the imagination, make you smile, laugh, think, cry, wonder, pontificate, analyze.  Books are cool.
When I thought about this week's theme, the image posted below immediately came to mind.  Looking at this image makes me cry.  This was taken just days after my mom's diagnosis of brain cancer.  It was the darkest time in my life.  We didn't know what was going to happen and were all prepared for the very worst.
When I took pictures that day, I didn't know if I was capturing the last moments my children would spend with their grandma.  Looking at this image brings me back to that day.  The sorrow that I felt.  The sense of impending loss.  But, what I see in this picture is not sad.  It is my daughter loving my mother.  It is my mother loving my daughter.
My mom is singing her the words to "What a Wonderful World" from the book she had given her for her birthday.  For my daughter, it was a time of joy–to see her grandmother, sit on her lap, and listen to her voice.  My daughter loves this book and loves her "Bama."
That book holds a special place on our bookshelf.
It's amazing what an image can conjure up in our hearts and minds.  It is images like this that I will always, always treasure.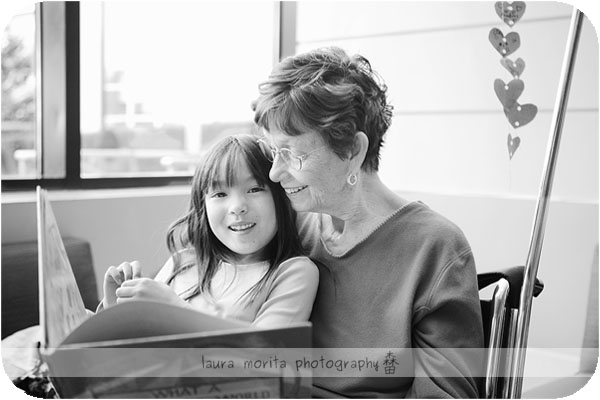 I am so happy to be able to report that my mom is fighting this cancer with an inner strength and makes me proud.  The chemotherapy has shrunk her lesions, and I can't wait for the day that we hear the words: "Cancer-free."…